Are you a Registered Nurse (RN) currently practicing, but interested in expanding your knowledge and employment opportunities? You may be interested in a new RN to PharmD Bridge Program available through Lake Erie College of Osteopathic Medicine (LECOM) in Erie.
The RN to PharmD Bridge program is a pathway developed by the LECOM School of Pharmacy specifically for Registered Nurses interested in expanding their knowledge and employment opportunities in the field of pharmacy.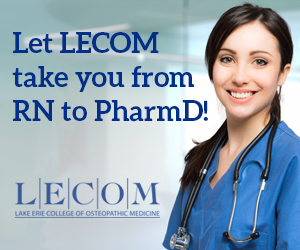 As pharmacy moves towards more direct patient-centered care, LECOM recognizes the need for more students with clinical experience.  Nurses have always been the experts in patient-centered care in all practice settings.  With this program, nurses can parlay their direct care experience into the pharmacy profession, leading to improved healthcare outcomes for all future patients.
Focused on basic sciences and other pre-requisite subject areas necessary for ensuring success in pharmacy school, the RN to PharmD Bridge program is offered in a distance education format.  Students in this program can continue practicing while preparing for pharmacy school.
For more information about the RN to PharmD Bridge program, contact the LECOM School of Pharmacy Office of Admission at pharmacy@lecom.edu